Mom and Dad Together
In the movie "The Family Man", Nicolas Cage says "I choose 'us' ", and the neoclassic movie "Back to the Future" reminds us that the choices that we make now will affect our future.
During this time of life parents are very vulnerable and in need of each other's love and support and it is important to consciously choose "US". Each of us has a Love Language, something that makes us feel especially loved. Now is a good time to think of the 5 Love Languages, so that you are not 'throwing' love past each other and so that you both feel loved and supported.
When one gives an unappreciated back rub and one gives a not fully appreciated gift, chances are that the one giving the back rub has a love language of physical touch and would appreciate a back rub themselves, and the one giving the gift has a love language of receiving gifts and would really appreciate a thoughtful gift …Unless we realize this we can keep loving another person the way we would like to be loved and not necessarily the way that they would like to be loved, and sometimes this results in 'throwing' love past each other, which results in both trying to love and neither feeling very loved. Take some time in this vulnerable time of your lives to affirm each other and choose "us".
THE 5 LOVE LANGUAGES
Words of Affirmation
Quality Time
Receiving Gifts
Acts of Service
Physical Touch

(Gary Chapman, 2010)
What is your Love Language? What is your partner's Love Language?
Five Love Languages Quiz
I feel especially loved when people express how grateful they are for me, and for the simple, everyday things I do.
I feel especially loved when a person gives me undivided attention and spends time alone with me.
I feel especially loved by someone who brings me gifts and other tangible expressions of love.
I feel especially loved when someone pitches in to help me, perhaps by running errands or taking on my household chores.
I feel especially loved when a person expresses feelings for me through physical contact.
The Crazy Cycle
Just a little reminder that at this time in your life you need to look after each other more than ever, even while you are looking after your baby. Life may be a little topsy-turvy, short on sleep, long on things to accomplish in a day, and just seeming to be 24/7 work, but a little love for one another will go a long way. Don't forget to show love according to your Love Languages, and take a look at this 'Crazy Cycle'.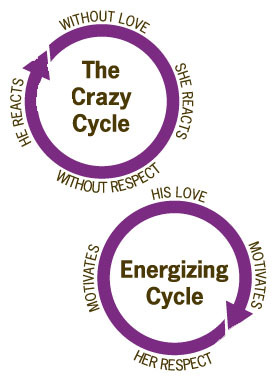 favorite
"A man's wisdom gives him patience; it is to his glory to overlook an offense."
Proverbs 19:11
favorite
"The wise woman builds her house, but with her own hands the foolish one tears hers down."
Proverbs 14:1
Drink At Your Own Well
Proverbs 5:15, 18
Michele Weiner-Davis is a therapist who used to listen to couples, hear their problems, not getting along, making each other mad, etc., and she would say
"Yup, you have a case, I think you should leave and carry on with your life". However, after 15 years of saying this to people, she realized that no one actually was getting on with their life – they were still attached. Besides she found that when they carried on to another relationship they had to do a lot of work to make the second relationship work…so she concluded that it is worth putting the same amount of work into the relationship you have. This is a gift you can give yourselves and your baby.